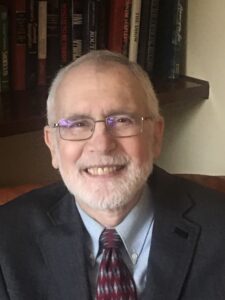 Michael Edward Purdy finished his 69-year journey on this planet when his Creator called him home on August 2, 2023, at his home in Seattle, Washington. Despite a lifetime of excellent health, stage 4 metastatic prostate cancer eventually ended his grand adventure, following a May 2019 diagnosis.
As a husband, father, grandfather, manager, historian, and writer, Mike had a profound impact on those around him. He was kind and gentle, an optimist, a deep listener, intelligent, and found humor in life. He saw all of life as ultimately theological and sought daily to live out his faith in his Lord and Savior, Jesus Christ.
Mike was born to Allen Roger Kirschner and Louise Anne (Lynch Winter) Kirschner, in Akron, Colorado, where his father taught English at the local high school. A little over a month after his birth, the family, including his older brother Stephen Allen, moved to New York for a few months to be closer to Mike's paternal grandparents (Jack and Frances Kirschner), then to Greenwich, Connecticut until 1961, when they moved to Princeton, New Jersey where Mike's father took a position as chairman of the English department at Princeton High School. In May of 1964, with his parents' marriage disintegrating, his mother moved with Mike and Steve to California, where she had grown up.
Mike graduated from San Marino High School where he served as ASB president. After graduation in 1972, Mike attended the University of Puget Sound (Tacoma, WA), where he was elected student body president. He served as a congressional intern in Washington, DC in the summer of 1973 during the Watergate scandal and sat in on hearings of the Senate Watergate Committee. He graduated in 1976 with a double major in business administration and public administration.
After graduating, he met his wife, Catherine, and they were married in May 1978. He obtained a Master of Business Administration degree from the University of Puget Sound in 1979. Upon graduation, he embarked on what would become a 30-year career managing government contracts, first for the City of Seattle for more than 21 years, then the Seattle Housing Authority, and finally the University of Washington (UW).
Mike and Catherine moved to West Seattle in 1980, where they bought a house and started their family. They had two children, Janet (1982) and David (1985). During the 1980s, with significant support from Catherine, he also obtained a Master of Divinity degree from Fuller Theological Seminary.
Mike retired as contracts manager from the UW in February 2010 and launched a successful public contracting consulting business for the next decade, advising government agencies, providing training, and writing a popular industry blog.
In retirement, Mike also launched another career as a U.S. presidential historian, starting a web site (presidentialhistory.com), authoring two books, writing articles, and participating in media interviews.
After being diagnosed with cancer in 2019, he struggled with the emotional and spiritual roller-coaster of terminal illness. With the support of his wife Catherine, other family members, and many friends, he sought to find joy on the journey while pondering his legacy in the world. In 2022, he wrote a candid memoir about his "uncertain journey."
Mike was preceded in death by his parents and is survived by his loving wife of 45 years, Catherine; daughter Janet Purdy of Jordanville, NY; son David Purdy (Melissa) of Seattle, WA; grandson Michael Purdy; brother Steve Kirschner of Oceano, CA; sister Tambra Faezeli of Portland, OR; other relatives, and a host of dear friends with whom he was privileged to walk through this life.
A celebration of Mike's life will be held at Bethany Presbyterian Church in Seattle on Saturday, August 26 at 3:00 p.m. and will be live streamed. More details at mpurdy.com/memorial.