Someone's birthday – especially for someone as famous as our 28th President, Woodrow Wilson, who was born in the waning days of 1856 in Staunton, Virginia, should be an elementary fact, not subject to any dispute.
December 28 or 29?  And yet most biographies of Wilson (born as Thomas Woodrow Wilson) and presidential history books inaccurately peg December 28 as the day of his grand entrance into the world at 24 North Coalter Street, the Presbyterian manse the family lived in
while Wilson's father, Joseph, served as pastor to the church in Staunton.  December 28 is, after all, the day that Wilson himself and his family used to commemorate his birthday.  But he wasn't technically born on December 28, but on December 29.  Perhaps it still seemed to the family like part of a very long December 28 that began with his mother, Jessie, going into labor on the 28th and didn't end until her son was born in the wee hours of December 29. 

Family Bible:  According to the Wilson family Bible that recorded the birth for posterity, the future President was born "on the 28th December, 1856 at 12 3/4 o'clock at night." So in the family's opinion, he was born on December 28, but at night, meaning at the end of the day.  This i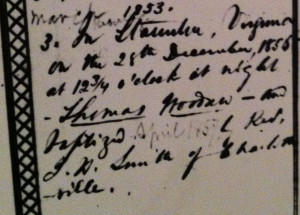 s supported by Jessie Wilson's comment in a letter that Wilson was born "about midnight on the 28th."  In the mid-19th century, people were not as precise about dates and times as perhaps our age is.  They functioned more based on days than on hours, and thus they viewed the birth date as the end of December 28, even though Thomas Woodrow Wilson didn't actually arrive until 45 minutes into the new day of December 29.

Books with December 29 date:  If Wilson's birthday was a popularity contest, December 28 would win hands down.  Of the books I consulted, only Joseph Nathan Kane's monumental and rich Facts About the Presidents (that I've studied since one of the earliest editions in the early 1960s), and David C. Whitney's The American President, have Wilson's birthday as December 29.  To his credit, August Heckscher, in his book Woodrow Wilson, A Biography, while listing December 28 as Wilson's birthday, acknowledged the discrepancy by pointing out the wording from the family Bible.

Books with December 28 date:  The following is a list of just some Wilson biographies and presidential history books that have chosen to honor December 28 as Wilson's birthday:
Biographies:

Woodrow Wilson, A Biography, by John Milton Cooper, Jr.

Woodrow Wilson, by Arthur Walworth

Wilson, The Road to the White House, by Arthur S. Link
Woodrow Wilson, Life and Letters, Youth, 1856-1890, by Ray Stannard Baker
Thomas Woodrow Wilson, A Psychological Study, by Sigmund Freud and William C. Bullitt
Woodrow Wilson, The Man and his Work, by Henry Jones Ford
Woodrow Wilson, by Gerald W. Johnson
Other Resources?  Do you know of any other books that list Wilson's birthday as December 29?
Mike Purdy's Presidential History Blog
© 2012 by Michael E. Purdy
www.PresidentialHistory.com