In 1793, in a precursor to today's concept of "crowdfunding" (the practice of funding a project or venture by raising monetary contributions from a large number of people, usually online), the men who would be the nation's first four Presidents all signed one document – what in those days was called a "subscription list" to raise money.  It is the only known document to which George Washington, John Adams, Thomas Jefferson, and James Madison all affixed their signatures.
What was happening in 1793?  In 1793, Washington was just beginning his second term as President, with Adams continuing on as his Vice President.  Jefferson was Secretary of State, and Madison was a Congressman in the House of Representatives.  The nation's capitol was in Philadelphia.  Click here to read my previous blog posting on the President's House in Philadelphia.
Mission to explore the American west:  A full decade before the famous Lewis and Clark Expedition to explore the continent, Jefferson wanted someone to "explore the interior country of North America from the Mississippi along the Missouri, and westwardly to the Pacific Ocean." There was no federal funding available for such an expedition, and so Jefferson proposed to raise the funds under the umbrella of the American Philosophical Society through a subscription list in which influential and wealthy supporters would commit to specific amounts to underwrite the adventure.  With interest expressed by a Frenchman, Andre (or Andrew) Michaux in leading the exploration, Jefferson wrote the instructions for the planned exploration.
Prominent supporters:  Washington's was the first signature on the subscription list, and he committed $100, more than any of the other individual 30 men who also signed the document.  Jefferson ponied up $50, while Adams and Madison each pledged $20.  Here's an image of the signature portion of the document: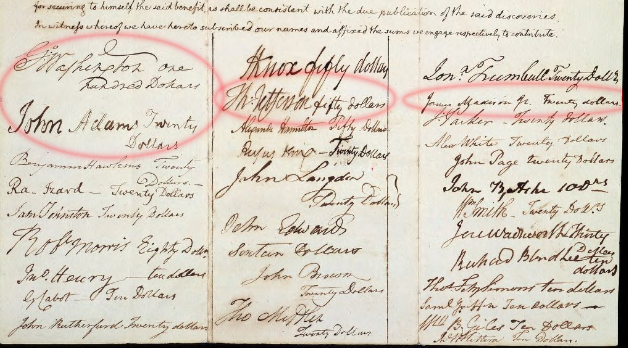 A non-existent expedition:  The Michaux expedition never took place as the Frenchman's time commitments got entangled in political intrigue and other affairs.  However, the planning for the aborted expedition by Jefferson served as the basis of the instructions that he gave to Meriwether Lewis and William Clark a decade later as they began their famous Corps of Discovery Expedition, a journey that would take them almost two and a half years.
Rediscovering the subscription list:  Interestingly, when the Michaux expedition failed to materialize, the actual subscription list document faded into history.  In the 1840s, the American Philosophical Society bundled it up with other documents and placed into their library collection.  There the subscription list stayed and was forgotten until 1979 when it was rediscovered by a high school student who was helping the Society clean the basement.
More information:  For more information about the Michaux subscription list, see the following resources:
Mike Purdy's Presidential History Blog
© 2015 by Michael E. Purdy
www.PresidentialHistory.com