John Quincy Adams, our nation's 6th President, was the son of John Adams, the 2nd President.  From his birth John Quincy Adams was destined for a political life.  In this new book (published January 6, 2015), author Phyllis Lee Levin explores the life of this gifted one-term President in The Remarkable Education of John Quincy Adams.
Contested election of 1824:  The first contested presidential election in which no candidate received a majority of the Electoral College votes was between John Quincy Adams and Andrew Jackson in 1825. While Jackson won the popular vote, he lost when the election was decided by the House of Representatives.
Book summary:  A patriot by birth, John Quincy Adams's destiny was foreordained. He was not only "The Gre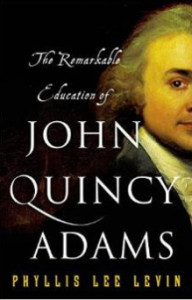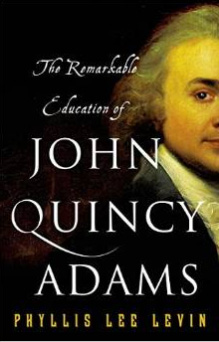 atest Traveler of His Age," but his country's most gifted linguist and most experienced diplomat. John Quincy's world encompassed the American Revolution, the War of 1812, and the early and late Napoleonic Age. As his diplomat father's adolescent clerk and secretary, he met everyone who was anyone in Europe, including America's own luminaries and founding fathers, Franklin and Jefferson. All this made coming back to America a great challenge. But though he was determined to make his own career he was soon embarked, at Washington's appointment, on his phenomenal work aboard, as well as on a deeply troubled though loving and enduring marriage. But through all the emotional turmoil, he dedicated his life to serving his country. At 50, he returned to America to serve as Secretary of State to President Monroe. He was inaugurated President in 1824, after which he served as a stirring defender of the slaves of the Amistad rebellion and as a member of the House of Representatives from 1831 until his death in 1848. In The Remarkable Education of John Quincy Adams, Phyllis Lee Levin provides the deeply researched and beautifully written definitive biography of one of the most fascinating and towering early Americans.