President Barack Obama and his wife, First Lady Michelle Obama, have sent out their annual presidential Christmas card with the following text: "With gratitude and cheer, we send our warmest wishes for health and happiness this holiday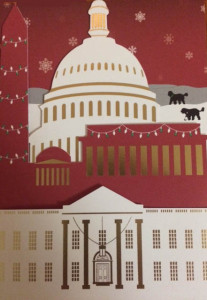 season."
Card description:  It is a fold out card with images of the the first flap containing an image of the White House facade, followed by a flap with an image of the Washington Monument, Jefferson Memorial, and Lincoln Memorial.  The next fold is an image of the Capitol Dome.  The card comes with signatures by the President and First Lady, Malia and Sasha their daughters, and paw prints for their dogs Bo and Sunny.
Paid for by Democratic Party: In small print on the back of the card, it states that it was paid for by the Democratic National Committee.
Happy Holidays:  In addition to the President's holiday greetings, I want to wish all of you a very Merry Christmas and a happy, healthy, and prosperous New Year.