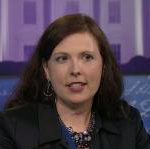 Guest Blog Post: I'm pleased to publish this guest blog post written by Kendra Hinkle. Kendra is a Museum Specialist and Cultural Resource Manager at the Andrew Johnson National Historic Site in Greeneville, Tennessee where she has been employed for 23 years. She is a Greeneville native and an expert on Andrew Johnson. Thanks, Kendra, for sharing this story with us.
New Andrew Johnson Documents Discovered
by Kendra Hinkle
I had been to the local T. Elmer Cox Genealogy and History Library in Greeneville, Tennessee several times in my capacity as Museum Specialist at the Andrew Johnson National Historic Site, located less than a half mile from the library. I kept hoping to find one more nugget, one more piece of the complex puzzle that is our 17th President. It's the dream of every researcher and historian.
Challenging and Changing Society: There were many firsts and unknowns for Andrew Johnson – the first President after a Civil War, the first Vice-President to take office following a first Presidential assassination, and the first Presidential impeachment. He also faced the daunting task of dealing with the first breaths of freedom for nearly four million former slaves, as well the Reconstruction (or Restoration, as he called it) of the former Confederate States of America. It was a time of tremendous upheaval and fear for everyone. In the end, Andrew Johnson clung to an agrarian mindset in an America that was swiftly transitioning to the Industrial Age. In a changing society, it was time to reevaluate concepts of liberty, citizenship, and voting rights.
Seeking Clues to Reconstruction: Reconstruction was left very much uncompleted. Is it any wonder we still seek for clues to piece together a time whose issues still inflame and reverberate with our passions today? Each visit to the library, however, only yielded copies of information or documents already in our possession.
Hidden History Revealed: Imagine my surprise, then, when one fateful day in March 2017, I received an email from the new assistant director at the library. He had been sorting boxes in the darker recesses of the center when he accidentally kicked over a box on the floor. Frustrated, he set the box upright and began retrieving the spilled contents.  Document by document, the truth came to light as words on each page took on meaning, "Andrew Johnson," "Executive Mansion," "Washington City…" Would I like to come, he asked, and look at the discovery to help verify and validate it? Would I?!
Where Did the Documents Come From? Andrew Johnson's great-granddaughter, Margaret Johnson Patterson Bartlett, became the last keeper of the bulk of the family's inheritance before the National Park Service took over Johnson's homes, Tailor Shop, Museum, and burial site. She distributed most of the collections either to the newly established Andrew Johnson National Monument, or to Tusculum College, her alma mater and a school where Johnson once contributed money. She was also magnanimous to the point of fault at distributing historical mementoes as tokens of association or goodwill to friends and local historians. In this case, however, it kept together another collection of precious primary sources that had never seen the light of day and been studied by historians.
Accessing the Documents: Letters, receipts, handwritten notes, photographs, calling cards, life insurance policy, family memorabilia…these are just a small sampling of the revelations brought to light by the unexpected discovery. And, due to the dedication and diligence of the library administration and staff, these documents are now housed together in their own space in archival containers. They have been processed and scanned, and are available online through the center's website at https://www.telmercoxlibrary.org/andrewjohnsoncollection. They wait for historians to study and transcribe, giving us a more complete understanding of Andrew Johnson.
History is Everywhere: So, remember to check the hidden places, attics, and basements for historical documents that have yet to see the light of day. History is all around us – just waiting to be discovered and to fill in the details of our understanding of the past.