Lecture on 2020 Presidential Campaign: On October 24, 2019, along with my good friend, political scientist and professor Dr. Michael Artime, we presented the inaugural lect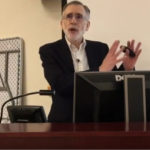 ure of our new series "2020: Battle for the Soul of America" about the upcoming presidential campaign. If you're interested, you can click here to watch the almost two hour video of the lecture including the questions and answers at the end. We have scheduled six more lectures, all to be held at the University of Puget Sound in Tacoma, Washington. The dates of the other lectures are as follows: Feburary 6, 2020, March 19, 2020, June 18, 2020, September 17, 2020, October 22, 2020, and November 5, 2020.
All About the Candidates and Issues: If you're interested in finding out more about the presidential campaign, you might want to check out https://www.ontheissues.org. It's a comprehensive collection of non-partisan information about the candidates, their position on issues, and the process.
A Founding Lesson in Civility: Here's a link to a 5 minute video of me discussing how the relationship between John Adams and Thomas Jefferson offers a model for how we might recover civility in today's heated political environment. It's one of a number of stories I discuss in my book, 101 Presidential Insults: What They Really Thought About Each Other – and What It Means to Us..
Words Matter: If you're interested in a slightly longer talk about my book, you can watch a video of a talk I gave on November 14, 2019 for a series co-sponsored by the Seattle Public Library and the Southwest Seattle Historical Society. Click here for a link to that 48 minute video.
Recent Media Interviews: I've been busy recently with media interviews:
Perfect Holiday Gift: I also wanted to remind those of you who might be interested that my new book makes a great holiday gift or stocking stuffer for the person in your life who enjoys history, politics, and humor. 101 Presidential Insults: What They Really Thought About Each Other – and What It Means to Us is available on Amazon, Barnes & Noble, or you can order through your local bookstore.
Happy Holidays! I hope this holiday season is one filled with wonder and joy for you as you gather with family and friends to celebrate. May you embrace and savor each moment and day of this incredible journey of life.