Our nation is in the midst of one of the most unusual transitions of presidential power, as the sitting president refuses to concede, is filing multiple lawsuits claiming widespread voter fraud, and attempting to influence what electors are selected in key states for the Electoral College. Has this ever happened before? Not exactly like this, but there have been some very tense and uncertain transfers of presidential power.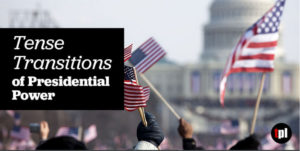 Please join me on January 14, 2021 from 6:30pm to 7:30pm as I speak about some of these past tense transitions of presidential power and how our current situation is different and similar to previous transitions from one president to another. The Zoom event is sponsored by the Tacoma Public Library. Click here to register for the lecture.
Holiday Gift Idea: If you're stumped on what to get someone, consider giving them a gift of my book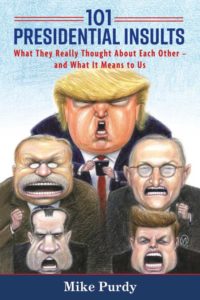 101 Presidential Insults: What They Really Thought About Each Other and What It Means to Us. It's laugh-aloud funny as you read the outrageous things our presidents have said about one another going back to the founding of our nation. But it's also serious as I make the case in the introduction for us to re-learn the lost art of civility and treating one another with respect. It's a short and easy read. Available on Amazon and Barnes & Noble.