If you want to know what has shaped and made Jimmy Carter the man he is, you have to soak in the ambience of the small town of Plains, Georgia. It was here on October 1, 1924 that the future president was born. And it is in Plains that Carter has always returned, and where the former president is living out the longest retirement period of any president.  In October 2017, I visited the former pr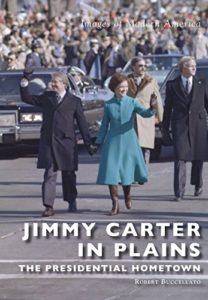 esident's hometown for a day, including having a photo op with President and Mrs. Carter.
Plains in Photographs: There's a great little book entitled "Jimmy Carter in Plains: The Presidential Hometown" by Robert Buccellato that captures in pictures and short descriptions Carter's life and roots in Plains. It's an easy, quick, and enjoyable read that gives you a feel for this tiny town of 700 plus that has played such an significant role in the making of Jimmy Carter.
Table of Contents: Here's the table of contents of the book:
Introduction
Jimmy Who?
Home of the Next President
A Bicentennial Election
Plains Goes to DC
A National Park
Places, People, Events: Without actually visiting Plains, this book gives the reader a good sense of the landmarks in town that have been significant in Carter's life and career (boyhood home, government housing he lived in, his high school – now a visitors center, train depot now a museum that served as his 1976 campaign headquarters, the 1961 ranch-style home he still lives in), the people who have influenced him (his parents, wife, children, brother), and the key events in his life.
An Essential Read: If you're thinking about a visit to Plains, read this book first. And if a trip isn't on your calendar, the book will enable you to visit the town virtually, and whet your appetite for reading more about our 39th President.